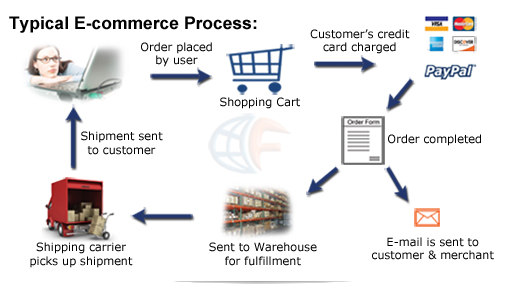 As soon as a customer finishes submitting an order on-line, is the beginning of a multi-status process where many events can happen and must be followed in order to close an order cycle: (i.e. Back Order, Discontinued, Damaged, Missing Parts, Exchange, Cancelling a Product, Adding Products, Changing Size, Color, Order Partial Refund, Charging Additional money for new items, Lost in Transit, Damage/Missing Claims, Reverse Logistics, Charge backs, Order Stand-by, etc).

A shopping cart solution without the proper back-office applications that will allow the company to follow internally the workflow of an order, notify customers of changing events, etc. The company will need to follow all of these events on a piece of paper. (Just imagine for a second, how will it be managing 10 orders/day without proper tools).
Tips in selecting an E-commerce/Shopping cart solution
There are so many things you need to take into consideration in order to build an ecommerce website that it's easy to overlook the choice of shopping cart software. But while you may be preoccupied with photographing and describing your merchandise or with getting paid, your customers are concerned with the quality of the user experience you provide. And shopping carts are a big part of that experience.
One challenge with choosing a shopping cart is the sheer number of choices available to you
Consider the following points before you decide.
Point 1: Understand what shopping carts can do
Anyone who has shopped online knows what shopping cart software does, at least from the customer's point of view. You choose items to buy and they are stored in a cart until you are ready to check out. You can then decide what you want to purchase or discard, choose shipping options, and calculate sales tax.

As any seller who has installed and maintained a shopping cart knows, that's only part of the story. Depending on their level of sophistication, shopping carts can also provide you with:


Reports on keyword searches, customers by what they purchased, customers who did not make a purchase, and many more options.
Design templates that help you integrate the look and feel of your cart with that of your website.
Integration with external services (those not handled by the cart itself) that help you process orders, calculate affiliate fees, or notify your customers when an order is being processed.
The ability to put products on sale.
The ability to convert currencies at checkout time.
Coupons and gift certificates for your customers.
The ability to cross-sell products
The ability to Create sets
The ability to process orders in batch
The ability to drop-ship order
The ability to keep track different status on an order (back order, damaged, replacement, exchange, charge back, shipped, discontinued, etc)


Shopping carts fall into two general categories: hosted and distributed. In addition, there are open source shopping carts like ZenCart, osCommerce, Magento, Open cart among many others . Open source shopping are free to download and are continually updated by a community. They don't come with manuals; rather, you need to refer to the developer's website and its user community for help with installation and operation most of graphic designer will download an open-source solution, if you are planning grow your online business this should not be the route you want to go. In contrast, commercial packages can be very expensive, but in exchange for your investment, you get customer service, technical support, and often, hosting, as well as a variety of features already built into the software.

Advance planning. Write down a list of the features you want. and take the following points into account.


Point 2: How much ability do you have to customize the software?
Before you choose, determine how easy is it to add a custom skin to the software, or to install add-on modules.
Many business owners that are using Open-source shopping carts spend half their time managing their cart rather than building their business. When it comes to customize new applications usually it will get to be very expensive since open-source solutions does not comewith manuals, a web developer will have to reverse engineer in order to find out how the system works.


Point 3: Find out what sort of support the cart gives you.
Does the shopping cart's support come with a fee? If your cart is critical to your business.
If you choose an open source option and your only option is to ask other users for help on a discussion board, can you afford to wait for up to 12 hours until the reply comes? Look for an active user form for non-critical issues, and if you need to hire programmers to solve urgent problems, make sure your cart is popular enough that you won't have problem finding someone who has experience with it.


Point 4: How powerful are the cart's marketing features?
You might not realize it, but your shopping cart can help you with bringing customers to your site through Search Engine Optimization (SEO) or by helping you create special promotions such as 2-for-1 sales, bulk selling, Cross-selling, Product set creations, product calculator.

Anyone serious about selling online needs to think about the shopping cart that you are going to use as much as what host to use at the end... you will get what you paid for!